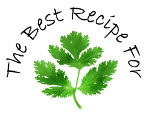 Sauce Béarnaise
INGREDIENTS :
2

tbsp

shallots or onion,

sliced

1/2 cup

(1 dl)

fresh parsley,

stalks and finely chopped leaves

2

tbsp

white wine vinegar

2

tbsp

water

2

egg yolks

1 cup

(225 g)

butter

1

tsp

tarragon

1

tsp

chervil

salt

and

pepper

to taste
INSTRUCTIONS :
Bring shallots, parsley stalks, vinegar and water to a boil. Simmer for a few minutes, then strain the liquid and return it to the pot (or just pick up the onion pieces and stalks).

Whisk in egg yolks and heat carefully while continuously whisking until the sauce begins to thicken. Remove from heat and continue whisking, then heat the pot as necessary while keeping an eye on the sauce so that it does not curdle.

When the sauce is thick enough (similar to mayonnaise), quickly whisk in a few tablespoons of cold butter to bring the temperature down. At low to medium heat, continue whisking while adding butter a few tablespoons at a time.

When all the butter has been added, remove from heat. Add herbs and season with salt, pepper, and more vinegar, if needed.

This sauce is great with almost anything, but goes especially well with beef, pork and French fries.
NOTES :
If you plan to refrigerate the sauce, replace 1/3 – 1/2 of the butter with a neutral vegetable oil so that it remains soft when chilled.
The sauce will curdle if heated too quickly or if you stop whisking during cooking.
Reheating or keeping it warm is tricky as it tends to split, so I usually serve it at room temperature (or cold if made in advance).
Split sauce may be recovered by turning off the heat, cooling it down with some cold butter and whisking vigorously. If that fails, start over by thickening a new egg yolk then whisk the split sauce into it a little at a time.